Praktika Newsletter December 2013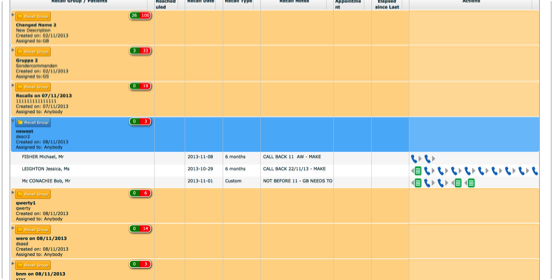 New Recall Management System
The biggest feature introduced in our latest Praktika release is the re-designed Recall Management system.
We have taken into consideration a lot of feedback and recommendations from our users and extended the Recalls functionality to make it a simpler and better manageable system.
We consider Recalls to be one of the most important part of the Practice Management. The continuous patient care is what allows practices to stay afloat in these rather difficult times.
The most prominent features of the new Recall System are:
Recall Groups: organise recalls into manageable groups that can be assigned to a particular person as a task (max 100 recalls per group).
Recall Groups Actions: apply actions to multiple recalls (print, email, SMS, reschedule, etc.)
Individual Recall Actions: apply actions to single recalls (print, email, SMS, reschedule, etc.)
Timeline of Recall Actions: visual representation of all recall actions per each recall (incoming and outgoing correspondence, telephone calls, messages, etc.)
Support for various means of communication with patients and records of the outcomes (email, SMS, post, telephone calls)
Finite Recall Lifetime: prompting for action (new communication attempt, rescheduling, etc) when the recall is "stuck" beyond the defined threshold.
Mail Merge for Documents printing and emails: prepare a single template with placeholders to print or email multiple documents.
Watch videos on YouTube on how the new Recall System works.
We are implementing the new system in stages. New functional units for the Recalls are on the way.
Recall System Updates
Templates are added to the Recall Notes
Practice optional setting to complete and reset recalls on appointment completion
Find all patients without recalls in the Recalls Due screen
Record incoming and outgoing telephone calls
Mark a telephone call as "Failed"
Cancel the recall if the Patient's status is changed from "Current"
Specify the threshold to prompt for another recall action
DYMO Label Printing from Praktika
Praktika now supports DYMO labels printing. We recommend DYMO LaserWriter 450 Turbo as an affordable, versatile, easy to use, robust label and card printer.
Watch it on YouTube
DYMO Label support is added to the Appointment window. You can create an appointment and quickly print an Appointment Reminder Card (89 x 51 mm) to give it to the patient. Please make sure the Appointment has an assigned provider to be able to print.
You can also easily print Patient address labels:
a single label from the Patient Navigator Screen
single or multiple self-adhesive labels from the Patient Directory or Recalls. We support the most common DYMO label formats.
Examples of links where LW 450 Turbo can be purchased
Extended Email Functionality
The email support in Praktika has been further extended to include:
1. Emailing the Tax Invoices (New Button in Completed Appointment Window)
2. Emailing the Documents from the Patient Communications. Select a template or write a new document based on a blank template and email it.
3. Emailing from the Patient Directory and Recalls Management.
You can send individual emails of mass emails from those modules.
PNG Image Support
PNG image support has been added to Patient Imaging files. PNG is a lossless compression format (as opposed to JPG, which is a lossy format). Files saved as PNG do not undergo the optimisation process that decreases the image quality so the files are saved 'as is'.
JPG format is still a preferred method for saving document files, where the image quality is not critical.
Suburb Auto-input
We have added a highly requested feature: the facilitation of suburbs and postcodes input. The feature works by auto-prompting all the suburbs that match the input while typing. Once you select the required suburb, the postcode is also inserted into the corresponding input box.
The Suburbs are capitalised as recommended by the Australian Post.
Quotes from Several Fee Schedules
Now it is a lot easier to create several alternative quotes based on different fee schedules. For that, create one quote, drag it over the green rectangular button in the top right corner and specify a new fee schedule for the created copy.
Also, when deleting unnecessary quotes, there is an option of deleting the treatment contained in them as well.
Fee Schedules Cost Values
Every treatment procedure can now include a cost component. Costs can be used to calculate expenses, such as lab work, etc.
The cost can also be entered while adding procedures to the Treatment Plan or Appointment. A new input field is added to the Treatment Procedure screen.
List of feature improvements in the current release
Practice Setting parameter added: "Cheque Payable To:". You can find it in Practice Details -> Tax Invoice setup.
GST on items 999 in Tax Invoices & Reports changed – it is a GST 100% component
Charting Occlusal Surfaces on Crowns allowed (Restorative Charting)
Scheduler shunting problem in some browsers is fixed
Growing Up Smile new fee schedule added
Printing from Windows 8 and 8.1
On top of the known and still existing issues with printing from Chrome on MS Windows (Hello, Google, it's been a year since the bug was recorded!), there is now a new printing issue with the newest Windows versions. The latest version of IE seems to ignore the text and prints only graphics, while the latest Firefox tends to print blank pages. The errors are not happening for everyone and may depend on the particular software versions and settings. So far the only workaround we found on Windows 8 computers is to install Safari Browser and run Praktika through it.
We will keep you updated on these issues.
Please email to us if you would like to receive Praktika's previous newsletters.