Praktika Newsletter March 2015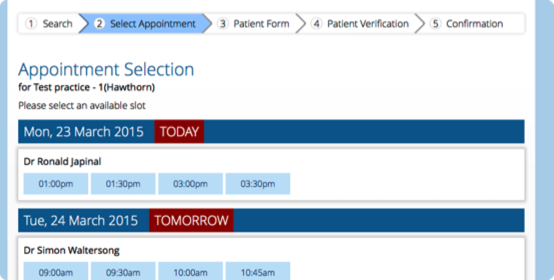 Online Appointment Bookings
We are delighted to inform you that Praktika has a fully operational Online Booking system now, that can work on its own or in cooperation with any other partner 3rd Party Online Booking system (like Health Engine, etc.).
Praktika's own Online Booking is free of charge for Praktika subscribers. You will only be charged for the verification SMS that is sent to patients during the booking process. The SMS is charged at our standard SMS rate.
It is very easy to employ and use. If you would like to utilise it,please email us your request, we will enable the service and provide you with a
widget for your website and a special API key.
Online Booking cursors
When your online services are enabled, there appears a new set of buttons. Mark (Paint) the areas in your scheduler to publish the slots available for online booking with a particular online service.
It can be a 3rd party service (HealthEngine) or it can be Praktika's own free Online Booking service. Save and propagate the slots as you normally would with any other functional areas.
Online on Scheduler
The blocks marked as available for online booking are displayed either with a calendar icon (for Praktika's own Online Booking service)
or with the icon of a 3rd part Online Booking system (like HealthEngine).
The blocks for all the online services

MUST

be managed from Praktika

. Blocks marked in the 3rd Party Online applications

are not

communicated to Praktika. It works only one way: Praktika informs 3rd Party services of the available slots.
Appointments booked online
Once the slots are booked online by patients via any of the enabled Online Services, the Appointments are marked with the
Online Booking Icon that indicates the online booking confirmation. The icon is the same for all the services, although there
is an appointment note that displays the service used for booking.
Patient Authentication
Patients access the Online Booking Services either via the 3rd Party Interfaces of via your website
(please get a widget from us for that).
The patients are identified via their names, dates of birth and their mobile numbers. All the existing
patients are matched in Praktika's database. For those patients we are not able to find a match, we create New Patient records.
The online appointments are verified with a code sent to the patients' mobiles.
HealthEngine Integration
Our Online Booking system now works with the HealthEngine services. To start using them in Praktika, please
contact us to enable the service for you. We will send your API key to the HealthEngine ourselves and ask them to
set it up. Please allow some time for that.
It is your responsibility to pay for the HealthEngine Services directly to them. Praktika provides our part o
f the service (integration) for free.
Please mind that the management of the online slots MUST be done via Praktika only. Slots published via any
other interface are not communicated to Praktika.
Other New Features
Extended Permissions
We have added a whole new range of user permissions to make it more secure, more manageable and more flexible.
The most important of them are:
Apply Adjustments, Delete Images, Manage Recalls, Change Prices, Manage Document Templates, Allow Merging of Patient files,
Reschedule Appointments.
Tax Invoice Options
Tax Invoice can now include the breakdown of all the payment details. Enable it in
Management -> Practice Details -> Tax Invoice. You can also use the account statement for the purpose,
although some health funds require Tax Invoices only.
An Invoice can also include (exclude) the Referring Doctor Details. You can enable it in the same screen
Default Dentition
You can now set a default dentition (Oral Cavity Configuration) for all your new patients.
It can be set in: Management -> Practice Details -> Patients.There are 6 presets to choose from
the drop-down list.