Praktika Newsletter July 2015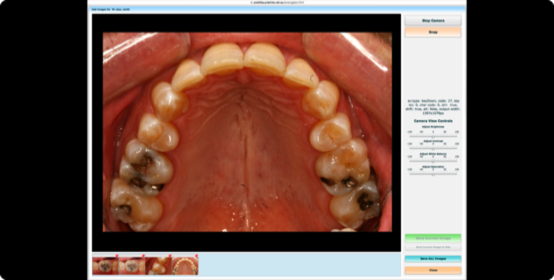 Intraoral Camera Interface Updated
Praktika can work with Intraoral cameras in two ways: via a TWAIN driver (for those cameras that support TWAIN and have such drivers) or via a video stream. Some cameras have both functionalities and can work in Praktika through both methods. Drivers are generally platform dependent. It means that there has to be a TWAIN driver for the Windows platform and/or Mac platform. Very few cameras have Mac drivers. Video stream is normally platform independent as it does not require specific drivers. Those cameras may work both in Windows and Mac.
The video stream interface can be called from the "Video Stream Capture" button in the Scan window.
The camera can be operated from the screen (mouse), keyboard (shortcuts), foot pedal (see below for the options). The utility supports camera resolutions up to 1600 x 1200 px (Super HD).
It produces an array of snapshots that can be saved all at once or individually. The interface has the adjustments controls for the camera: brightness, contrast, saturation and white balance.
Keyboard shortcuts:
"c" – camera on/off
"m" – make a snapshot
"v" – view snapshots (scroll backwards)
"s" – save current snapshot
Pedals For Intraoral Cameras.
1 Button USB Pedal
Basic USB pedal, reprogrammed to work with Praktika's interface.
As it only has 1 button, it I can be used to make snapshots only ("m" keyboard event).
This one is a no-brand device without a manufacturers guarantee. Made in China.
4 Button Philips Pedal
Advanced USB pedal, reprogrammed to work with Praktika's interface.
The 4 buttons allow users to start/stop camera ("c"), make snapshot ("m"), view snapshots ("v"), save current snapshot ("s").
It is a solid pedal designed to perform millions of presses. Made in Europe.
Price: $250.00
You can buy pedals yourself from elsewhere or buy them from Praktika. But in both cases we need to reprogram the device. (It can be done remotely).
Mac/Windows Camera
Intraoral CameraWe have an intraoral camera we are trying to develop together with a Taiwanese manufacturer. It is a moderately priced high-resolution camera that works both on Mac and PC and does not require specific drivers.
6 LED, Resolution: 1600×1200 px.
Price: $300.00
We do not have them in stock yet, but we can order them from the manufacturer. Currently takes 2-3 weeks to arrive.
New Features In Imaging
TWAIN Transfer Mode selector
Some scanners may require a change of the image transfer mode to support multiple image scanning.
The selector is in the Scan window TWAIN Transfer Mode selector
and it has 3 options: default (suitable for the majority of scanners), single and multi. It can also be set permanently in
Management -> Practice Details -> General: "Twain Default Transfer Mode"
Default Scanner Selection
You can now select your default scanner in Management -> Practice Details -> General: "Preferred scanner name".
Please type in the name of the scanner exactly as it appears in the Scanner Selector dropbox.

Scanned Docs Default Format
You can also now choose the file format to save your scanned document in by default. Management -> Practice Details -> General: "Scanned Documents default format".
Autoclave Barcode Utility
Barcode Generator
We have released a new section in Management named "Utilities". The first utility placed in the section is the Barcode Generator for Autoclaves.
It is designed to work with Dymo LabelWriter 450 (Turbo) and it can generate adhesive autoclave labels that can be scanned into a patient file for tracking purposes. We utilise Code 128 Extended barcode.
It is a good utilities for those autoclaves that do not have a built-in or attached label printer.
Dymo printer can be purchased from most office suppliers at around $130.00 mark.
Praktika Barcode Label Anatomy
We are recommending 89×36 mm opaque or transparent self-adhesive labels (SD99012 or SD99013).
You may insert the clinic name, autoclave name, cycle date, cycle time, cycle type, cycle number (required), operator and expiry date.
The code can be scanned in by Barcode scanners. It is also human readable as it contains the encoded info in text form as well.
You can print any number of copies at one time. The copy number is shown in the bottom right corner.